Product Name: White Quartz Slab/Tile for Countertop(NT511)
We are specialized in manufacturing & exporting mousse brown for residential and commercial projects with good price .
fit for: tiles,slabs,stairs,countertop,wall clading, we can make according to the CAD drawing etc.
Surface Finishing: polished,honed,antique etc.
Size For Reference:
(Customized specifications are available)
12"x12",12"x24",16"x16",18"x18",24"x24",etc
305x305mm,305x610mm,400x400mm,457x457mm,60x600mm,etc
Big slabs:120upx240upx1.5/1.8/3cm
1) Quartz / Granite / Marble slabs size available:

A) middle slabs:600upx2200upx20/30mm,or Customized.
B) middle slabs:700upx2200upx20/30mm,or Customized.
C) middle slabs:600upx1500-1800upx20/30mm,or Customized.
D) gangsaw slabs:2400upx1400upx20/30mm,or Customized.
E) quartz slab popular size:3200*1400mm,3200*1600mm,800*800mm,600*600mm,300*600mm,or Customized.

Quartz / Granite/ Marble Slabs Standard Dimension:
Big Slab:
240upx120upx1.7cm
240upx120upx2cm
240upx120upx3cm

Small Slab:
180upx60upx1.7cm
180upx60upx2cm
180upx60upx3cm

Custom Sizes to Your Specifications

2) Marble Tiles, Granite tiles, Cut-to-size or as per customer requirement.
Tile:
305X305X10mm (12X12X3/8'')
406X406X12mm (16X16X1/2")
457X457X12mm (18X18X1/2")
305X610X12mm (12X24X1/2'')
406X406X20mm (16X16X3/4'')
305X610X20mm (12X24X3/4'')
406X610X20mm (16X24X3/4'')
610X610X20mm (24X24X3/4'')

Custom Sizes to Your Specifications

3) Slab Edge Treatment:
Polished, Honed, Flamed, Bush-hammered, Sawn etc etc.

4) Slab Packing:
Tiles by carton then to wooden crate.
Cut to size by crate.
Slabs by wooden bundle.
Artificial White Quartz Stone for Table in Home: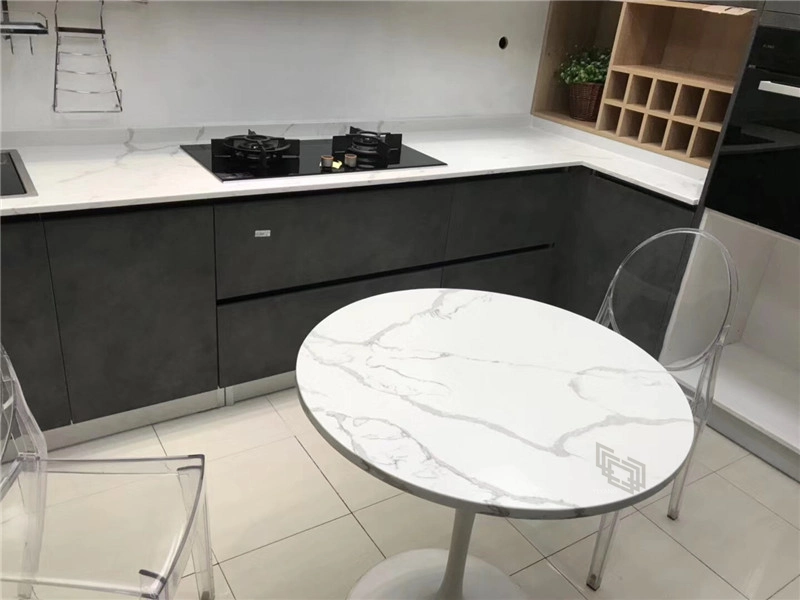 Our Real Case From Customer :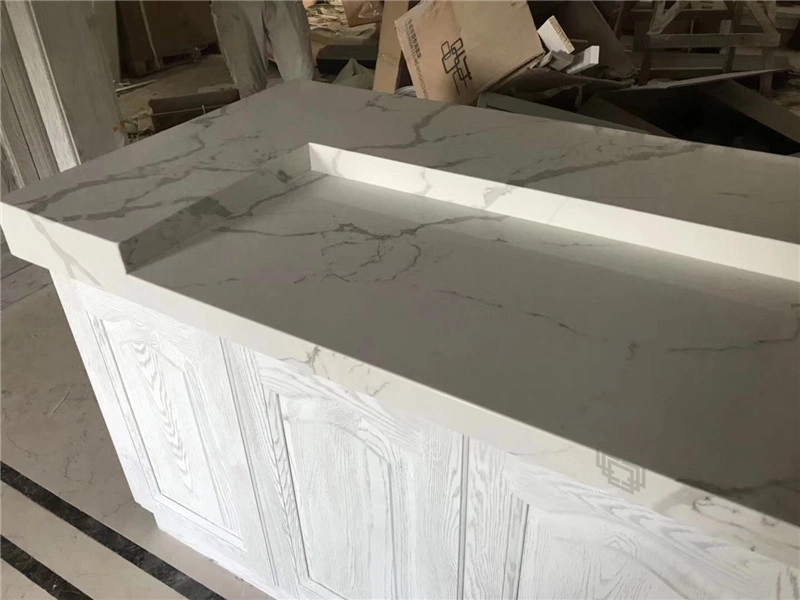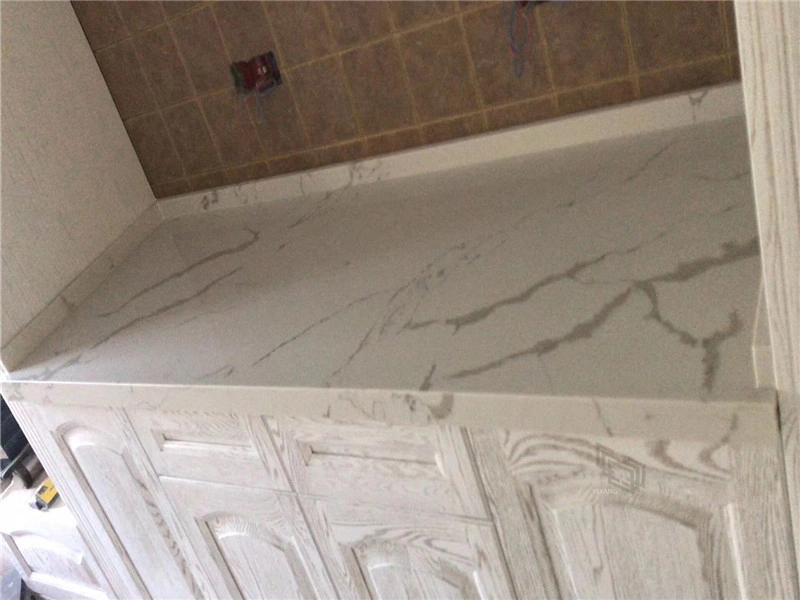 Artificial Snow White Quartz/Marble Slabs as follow: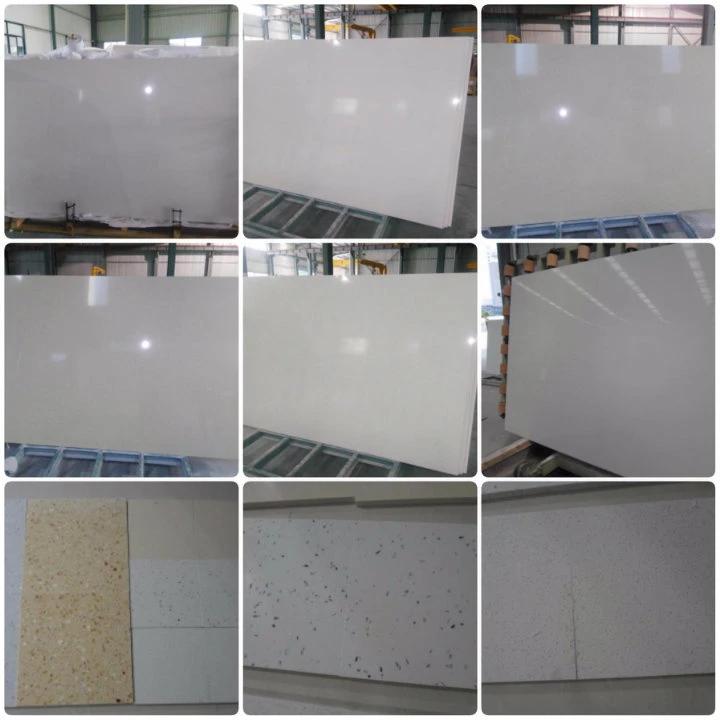 Stone Tile

305X305, 610X305, 400X400, 600X600, 300X300, 600X300

Thickness

1.0, 1.2, 1.5, 2.0, 2.5, 3.0cm or customized

Marble Cut to size

60 / 120 X 60 X 2 / 3 cm, or customized

Marble Small slab(strip slabs)

180~240 up X 60 / 70 X 2 / 3cm etc

Marble gangsaw slab

240upx 120up X 2 / 3 / 4 / 6cm etc

Marble Staircase

Thread/Step(120~150)X33X2/3cm

Riser(120~150)X(15~17)X2cm or customized size

Cube stone/Cobblestone

10 X 10 X 10 / 5 cm, 9 X 9 X 9 / 5cm etc.

Cube Stone on mesh

70X50(Rectangle shape);

85X50(Sector/Fan shape), Round, or customized

Garden Stone

Table, Chair, Sculpture, Fountain, Flower Pot, Balustrade etc.

Surface Finishing

Polished, Honed, Flamed, Bush hammered, Sandblasted, Pineapple,
Flamed and Brushed(Antique), Natural etc.

Chinese Granites

Grey

G602, G603(Padang Crystal), G614(Padang Medium), G633(Padang Light),
G654(Padang Dark), G623(China Rosa Beta), G640, G655, G636, G439, G435 etc.

Pink

G681, G606, G617, G635, G648, G657, G687, G663, China Rosa Porrino, H.D Red.etc.

Red

G683, G696, GL Red, G562 Maple Red, Tianshan Red, Porphyre Red etc.

Yellow

G682 Rusty Yellow, Tiger skin Yellow, ZP Rustic, Gold.etc.

Green

ChinaGreen, JX Green, China Ubatuba(China Butterfly Green), Chende Green etc.

Blue

ChinaButterfly Blue, Sky Blue, Blue Star etc.

Brown

G611 Almond Mauve, G634 Mystic Mauve, G664, Leopard Skin, Desert Brown etc.

White

Golden White, Pearl White etc.

Black

Shanxi Black A(without metal dots), Shanxi Black B(with small metal dots),
Mongolia Black, G684, China Black(HB Black), Fengzhen Black, China Impala etc.

Others

ChinaTropical Brown, Desert Brown, China Juparana, Spray White, Leopard Skin etc.

Imported Granites

Indian

Black Galaxy;White Galaxy;Kashmir white;Kashmir Gold;Mardura Gold;
Sapphire brown;Saphire Blue;Baltic Brown;Tan Brown;Multicolor Red;
Indian Red;Paradise Bash;Paradise Classic;India Aurora;Viscount White;
Himalaya Blue;Bahama Blue;etc.

Brazilian

Giallo California;Giallo Ornament;Giallo Brazil;Giallo SF Real;Giallo Fiorito;
Saint Cecilia;Giallo Cecilia;Giallo Veneziano;New Giallo Veneziano;Ubatuba;Raw Silk;etc.

Norway

Emerald Pearl;Blue Pearl;Labrador Antico

Other

Dakota;Caledonia;Carmen Red;Africa Red;Africa Black Impala;Olive Green;Verde Fountain;etc.;

Granite Countertop

Prefab Countertop

24" X96", 26" X96", 28" X96", 26" X108", 28" X108" etc.

Peninsula

36" X78", 39" X78" & 28" X78" etc.

Island

66" X42", 84" X42" & 86 X42" Island or even bigger

Snack Bar

12" X78" & 15" X78" Island (snack bar)

Vanity top

25" X22", 31" X22", 60" X20", 72" X22" etc.

Other

As customized

Edge finishing

Single:Eased Edge, Bullnose, Ogee, Beveled, Dupont, Bullnose Half.

Double:Laminated Bullnose, Laminated ogee Bullnose, Laminated bevel, Mitered Edge;

GraniteMonument

European

Poland, French, Germany, Austria, Szech, Solivakia, Irish etc style available

American

Upright monument, slant, die, marker style, big monument available
We have full experience and big advantage in Countertop projects, can assure you Top Grade Quality, Competitive Price and On Time Delivery for Slabs...With our support, you will win more and more projects and market shares.

ABOUT US:
-Xiamen Yeyang Stone has been family owned and operated since 1993, and started to export in 2006. -We own two independent factories,more than 20 family's factories and use up-to-date machines to fabricate good-quality stone products for our customers, and gains a good reputation.

-Our main products:new marble, quartz slab wholesale,kitchen countertops, granite, slate, slabs, tiles, cut-to-size, paving stone,bathroom vanity tops etc.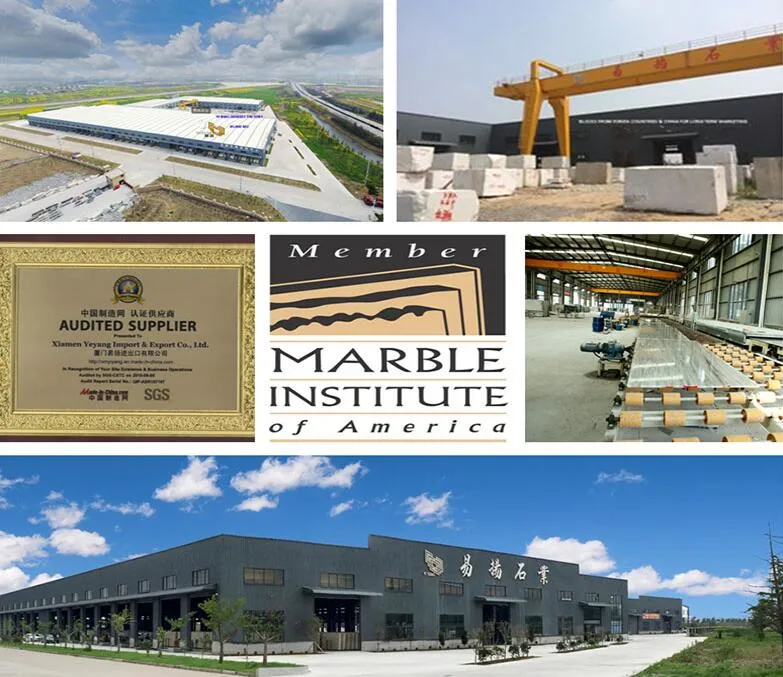 YEYANG STONE GROUP.
Xiamen Yeyang Import & Export Co., Ltd.
A MIA member & SGS approved manufacturer
Web 01: xmyiyang.en.made-in-china.com
Web 02: xmyiyang.en.made-in-china.com
Web 03: xmyiyang.en.made-in-china.com
Web 04: xmyiyang.en.made-in-china.com
Web 05: xmyiyang.en.made-in-china.com
Web 06: xmyiyang.en.made-in-china.com